New York City takes center stage this weekend with two killer events to choose from. Plus: The best place to catch skiing and snowboarding heroics out West.
New York City takes center stage this weekend with two killer events to choose from. Plus: The best place to catch skiing and snowboarding heroics out West.
By Katie Rogers and Cannon Kinnard
Red Bull's Snowscraper Big Air Competition and Winter Jam, February 5 and 7
New York City
For once you don't have to flee the city to get your winter sport fix. Make it to Manhattan this weekend for Winter Jam NYC at East River Park on the Lower East Side. Red Bull's Snowscraper Big Air Competition starts at 3 p.m. on Thursday, with 16 of the world's best snowboarders (including Shaun White, Travis Rice, and Terje Haakonsen) competing at 6 p.m. on a 90-foot ramp for $100,000 in prizes. (There's also a live performance by Anthrax.) On Saturday, you can catch the up-and-comers at The Future of Snowboarding Invitational, a smaller competition held on the big ramp. Best of all, you can even get in the action yourself  — for free — by flying down the 70-foot long "Snow Flume" via tube or sled. If sliding isn't your thing, you can also try cross-country skiing and snowshoeing, enter the snow sculpture competition, or test your scrambling skills up the ice-climbing wall. The Skyriders will provide high-flying trampoline entertainment, with live music will by Apollo Run, Dujeous, and more. If your adrenaline wanes, grab a spot in the NY Warming Hut or check out free samples at the Winter Market (admission is free and all equipment is provided; nycgovparks.org). 
Check the cool making-of video here: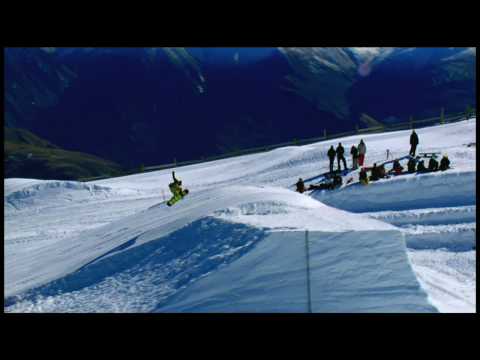 Watch Shaun White get ready for the event:
Polar Weekend, February 7
American Museum of Natural History, New York City
Want to watch the cold, but in a bit warmer surroundings? Move uptown from the New York's Winter Jam to the Museum of Natural History for their Polar Weekend, featuring Jon Bowermaster's film Terra Antarctica, Re-Discovering the Seventh Continent. Bowermaster made his way through the world's most unforgiving continent by plane, sailboat, dogsled, and sea kayak — hauling all of his own gear — to showcase the continent's fragility through the effects of arctic tourism and climate change. While at the museum, check out other Polar Weekend attractions like the Polar Fair, where you can get your hands on genuine polar gear, talk to scientists, and plan out your own polar expedition. For complete film listings, visit amnh.org. (All events are free with admission to the museum, located at Central Park West and 79th St.)
Aspen Snowmass Open, February 5-8
Aspen, Colorado
Take in the best up-and-coming talent in skiing and snowboarding this weekend in the Aspen Snowmass Open at Buttermilk Mountain. Both men and women will battle it out on this year's Winter X-Games slopestyle and superpipe courses for bragging rights and glory — and a $50,000 purse. The best part: Once the competition ends, the courses open up to all attendees. Even better: the competition is free (aspensnowmass.com).

Accommodations and Travel: Stay right in the Snowmass Village at the Pokolodi Lodge, which is located adjacent to the Aspen Snowmass and its four mountains (from $189; pokolodi.com).
2009 Pineapple Cup, February 6
Montego Bay, Florida
Winter may be freezing you out, but there are places where water hasn't transformed into a sheet of ice. Get some sun and set sail this weekend in a challenging 810-mile race off the coast of Florida. This year's Pineapple Cup kicks off outside of Fort Lauderdale's Port Everglades, and finishes just off of Montego Bay Harbor on the North coast of Jamaica. The race invites all navigators, tacticians and crews to participate in this all-points-of-sail race. The course first crosses the Gulf Stream and heads toward the Northwest Province Channel, then travels down the eastern side of the Bahamas Island Chain, ending with a smooth ride down the eastern tip of Cuba toward Montego Bay in Jamaica. Win or lose, all teams will find a case of Jamaican Red Stripe beer with their name on it once they dock. The winner will be awarded a Pineapple Cup trophy ($600, montegobayrace.com).
Accommodations and travel: The Layfafyette Motel is located right on the beach in Fort Lauderdale, and rooms start at just $76 per night. For racers who reach Jamaica, the Pineapple Cup has blocked rooms at the Sunset Beach Resort & Spa, just minutes from the dock at the Montego Bay Yacht Club, with an all-inclusive package with meals, bar and taxes at no extra cost.