Sure, he isn't as pretty as he was, but he is having more sex and attracting attention for his acting, not his antics. And if Rourke doesn't nab an Oscar this time, so what? He's going for one next year, too.
by Amy Wallace
Just a few months ago, mickey rourke was driving around Miami late one night, cruising the streets of his hometown, when his cell phone rang.
"Hey, it's Bruce," a familiar voice said, but at first Rourke couldn't place it. "Springsteen," the voice said. Rourke tears up a little when he remembers.
Rourke, who is 52, has known Springsteen for more than two decades — a span of time that includes at least a few of Rourke's glory days and all of what he calls "my lost years." During that period the actor basically told Hollywood to go fuck itself, became a not entirely unsuccessful professional boxer, got the shit beat out of him, and lost all traces of prettiness in his once-pretty face. Long before his recent comeback, he had found a good psycho­therapist in the hopes, he says, of finally becoming — and this is a word he uses a lot — "accountable."
Rourke has a lot to account for. Once he had been mighty. In the 1980s, Time magazine said he had the potential of a young Jack Nicholson, and New Yorker critic Pauline Kael praised his "edge and magnetism and…sweet, pure smile that surprises you. He seems to be acting to you, and to no one else." With luck, she said, "Rourke could become a major actor." Then he self-destructed. There were fistfights and violent marital squabbles (his ex-wife, the model Carré Otis, accused him of assault, then dropped the charges). There was prima donna behavior (he walked off a job because a producer wouldn't let his beloved pet Chihuahua appear in a scene). There was poverty. And there were many truly awful movies.
Then, in 2007, a really good director named Darren Aronofsky picked Rourke for a great leading role: Randy "the Ram" Robinson, a broken-down pro wrestler at the end of his career. Unbelievably, considering how hard Rourke had worked to dismantle the enormous goodwill the movie industry once had for him, he was getting a second chance — "the last chance," he tells me. "I'm not getting another pass. This is it." And to make the most of that chance, a movie called The Wrestler, he reached out to the Boss for help.
"When we got done with the movie, I knew we nailed it. There was magic going on," Rourke says of the film, for which he transformed his already powerful body, adding 35 extra pounds of muscle. "So I wrote Bruce a letter — a real long fucking truthful letter. And I said, 'I'm so glad that I didn't end up like Randy because, unlike me, Randy doesn't have access to somebody who can help him to change.' "
Watch the trailer for The Wrestler: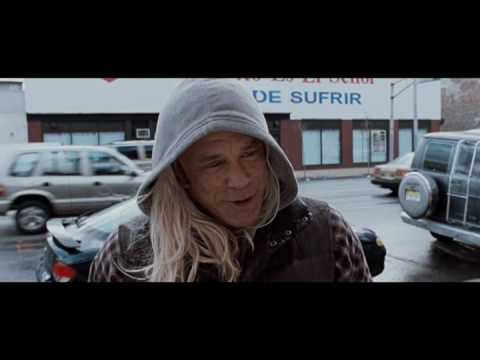 Rourke had poured his heart out, but still, when the phone rang that night in Miami, he was surprised. "Bruce said, 'Listen, I wrote a little something,' " the actor recalls. The song, which shares the film's title, plays as the credits roll, and its lyrics seem to perfectly capture Rourke's breathtaking, backbreaking, and literally skin-perforating performance.
"Have you ever seen a one-legged dog making its way down the street?" Springsteen sings. "If you've ever seen a one-legged dog, then you've seen me."
I ask Rourke how Springsteen teased out that central theme before the movie was even in the can. Rourke nods, knowing the answer. "He didn't see the movie," he says, "but he knows me."
—-
I first met Rourke on a Sunday morning in September 2002, half a dozen years before anyone would think to put his name and "Academy Award" in the same sentence.
It was early, probably 7 am. That must be said out of fairness to Rourke, given what happened. And he was understandably tired, having spent days at the Toronto International Film Festival promoting a movie he didn't like much called Spun. He'd only done Spun, he says now, because his new agent told him to, and in those days he was lucky to even have an agent.
So on that morning, when the agent, an earnest young man named David Unger, called Rourke's room at Toronto's Four Seasons to say he was waiting with an airport limo idling outside, Rourke didn't say what he wanted to say. He didn't tell Unger to leave without him because he was lying next to an incredible piece of ass. ("Oh, this girl," he recalls now. "She was a fucking 12.") Instead Rourke told himself, mantra-like, Can't let the old Mickey come back, and got up, kissed the girl, grabbed his luggage and his favorite Chihuahua, Loki, and came downstairs.
I was in the lobby, where I had bumped into the waiting Unger, whom I knew a little. The agent offered me a ride to the airport. Did I want to share a limo with Mickey Rourke? Fuck yeah, I did.
Stepping out of the elevator, he was bleary-eyed but smiling, with a bandanna tied around his head and Loki in a mesh carrier slung over his shoulder. His face looked a little strange (since his boxing days, his nose has been rebuilt with cartilage from one ear), but he was still sexy, like Axl Rose with muscle tone. We said hello as he parked his luggage at the curb and piled into the car. Rourke had things on his mind (apparently very beautiful things — "To this day," he says, "every time I go to Toronto I look for that girl"), so we rode mostly in silence for several minutes. Then, suddenly, Rourke erupted.
"Where's my dog?" he yelped, and in his voice there was no badass, only terror. "Stop the car!!" The driver pulled over, even though we were on the freeway and there was no shoulder. Rourke jumped out and ran to the trunk. A moment later he fished out his dog, who hadn't yet suffocated, and proceeded to kiss her repeatedly on the lips.
Loki, buried in the dark, was like his career at the time. Rourke cherished her because she made him feel special. Even today he calls Loki his "Number One," pays a guy to cook her meals, and has recently hired Italian artisans (I'm not making this up) to cast her in bronze. He loves that little dog. And yet, like his talent, he almost killed her with neglect.
"I'm sitting there going, 'I can barely pay for this bowl of spaghetti,' '' says Rourke. " 'Goddamn do I need a movie.' ''
Famously, Rourke turned down roles in some of the most acclaimed films of the 1980s and '90s: Pulp Fiction, Platoon, The Untouchables, Beverly Hills Cop. The director Adrian Lyne once said that if only Rourke had died after he made Angel Heart, in 1987, he would have been James Dean. But Rourke lived and was himself: a has-been, reduced to selling off his Harley-Davidson collection to pay the bills.
I ask if he has regrets. "Of course I do," he says, exasperated. "My head was up my asshole. I've got a lot of fucking regrets."
—-
Regret, of course, is a big part of what makes The Wrestler so devastating. It's been said before, but it bears repeating: The Wrestler doesn't just star Mickey Rourke. In many ways it's about him.
Just as the film's main character, Randy "the Ram" Robinson, avoids his prissy given name (Robin), so too does Rourke, who was born Philip Andre Rourke Jr. (His father and namesake, an amateur bodybuilder, left when Rourke was six and ultimately drank himself to death.) Just as the Ram is humiliated when a fan discovers him working behind the counter in the deli meats section of a New Jersey grocery store, Rourke was once shopping in a 7-Eleven when a guy walked up to him and said, "Didn't you used to be a movie star?" In the film the Ram deliberately sticks his hand into a meat-slicing machine; a few years ago Rourke intentionally sliced off the tip of his finger (enduring hours of surgery to have it reattached). Just like the Ram, who lives in a decrepit trailer (when he can afford to pay the rent), Rourke — who once owned a $5 million house and that huge motorcycle collection — knows what it is to be flat broke.
"There were parallels. It was almost embarrassing. There was a lot of shame. A lot of living in disgrace in a state of hopelessness that was really close to the belt," Rourke says, remembering the period when he had to ask friends for money just to get by. The parallels were so strong, in fact, that when Rourke asked Aronofsky if he could rewrite his dialogue, the director said yes. "There's a speech at the end of the movie where I say I never thought I'd be back here in the ring again — that I don't hear as well as I used to and I don't have as many teeth in my mouth. And when you get to be a certain age they want to put you on the goddamn shelf. That was all something I was able to write from what had happened to me," he says. "I mean, that's how I felt with the acting."
We are sitting at a corner table in an Italian cafe a few blocks from the rented Greenwich Village townhouse he shares with his beloved dogs and his manager. It is early December, just as the Academy Award frenzy is beginning to peak. This interview is part of that frenzy, part of playing "the game" that the old Rourke once disdained so vocally. But now, for perhaps the first time, he is not too proud to admit he wants to win. "Everybody wants to play in the big game on Sunday," he says. "But if you don't train hard — if you don't do your roadwork — you're not gonna." Five days after he said that, Rourke nabbed a Golden Globe nomination for best actor.
It's been a long time since Rourke, who once studied with Elia Kazan and Sandra Seacat, has won attention for his acting instead of his antics. He gained critical acclaim in 1981 for his breakout role in Body Heat and, in 1983, got the best supporting actor award from the National Society of Film Critics for his role in Diner. In 1984 many praised his unforgettable performance as a small-time hood with big dreams in The Pope of Greenwich Village. He became a sex symbol by romancing Kim Basinger in 9 1/2 Weeks. But he never got nominated for an Oscar.
"Listen, I get laid more now than I did back then, so I'm not going to complain," he says.
Rourke looks out from under a cowboy hat, his two front teeth rimmed in gold for an upcoming role, his blue jeans slack on a lean frame (he's almost back to his normal weight, 195), his mien a weird mix of warmth and ferocity. This is a man who says he finds punching things relaxing but also a man who dissolves into tears when Loki or one of his other five dogs falls ill. That soft/hard duality is on display in The Wrestler, too. But Rourke wants people to know that, all echoes aside, he isn't just playing himself. Before you can be considered for best actor, after all, people have to believe you were acting.
Because he is trained as a boxer, many think wrestling came easy for Rourke. On the contrary, he says: Boxing is short, quick movements, while pro wrestling is more acrobatic, with exaggerated, roundhouse swings. "It's like ping-pong and rugby," he says of the two sports. "I had so many habits to break."
Rourke, who for years has followed anti-aging regimens that include self-administered B-12 shots and intravenous vitamin replacement sessions, is serious about his body. Even before The Wrestler he worked out for 80 minutes five times a week, a mixture of cardio, light weights, and boxing — mitts only, no contact. "I can't do any contact anymore," he says, repeating a doctor's assessment.
To acquire the physique of a wrestler he pushed himself to the limit. (Officially, he did it with twice-daily workouts with a former Israeli cage fighter and seven meals a day, but when I ask if he also used steroids or human growth hormone, he smiles conspiratorially and says, "When I'm a wrestler, I behave like a wrestler.") He did all of his own stunts, diving off the ropes onto the mat, flipping backward through the air, even doing what pro wrestlers call "gigging." Aronofsky asked Rourke, in their first conversation about the film, if he was familiar with the term. He wasn't, so the director explained: To give audiences the gore they want, wrestlers often hide bits of razor blade in their taped-up wrists. Then, at the right moment, they cut themselves, usually on the face so the blood will flow into their eyes.
"Darren said, 'I'm going to want you to gig in the movie.' And it was always on my mind: God, when are we going to do that scene," Rourke says. "So the night of the scene, he says, 'You really don't have to do it.' I said, 'Fuck you. I'm gigging!' "
The scene is hard to watch, not just for the blood but for the desperation in Rourke's eyes. "I wasn't doing it for my art; I was doing it for Darren," Rourke says. "Because Darren challenged me. He knew how to push my buttons."
—-
Ah, Rourke's buttons. Who hasn't heard about them? His problems with, but yearning for, discipline. His temper (famously, he once beat up his ex-wife's drug dealer). His inability to deal with authority. "I've got to watch my ass every second of the day," he tells me. "I mean, I'm not as out of control and unpredictable as I was. I'm accountable now. I really am. But still there's always going to be that little man with the hatchet inside of me."
In almost every interview over the past year, Rourke has laid the blame for this psychic torment on the abuse he suffered at the hands of a brutal stepfather. And he has thanked God and his therapist, a guy he simply calls Steve, for helping him to keep his rage in check.
How well Rourke has heeded God and Steve is put to the test when I mention a recent profile in the New York Times Magazine in which Rourke's stepfather denied any abuse and painted the actor as a poser who has faked his own suffering to justify his tough-guy persona and get attention. Rourke bristles, but doesn't blow.
"Let me just say one thing to you: I studied — and struggled and persevered and concentrated and focused like a fucking monk — to be the actor that I am, and then I threw it all away," he says. "You don't do that unless you got issues, and those issues are fucking real. And there's no gray there. They're all fucking black and white."
Rourke's sister and stepsister issued a statement denouncing the Times piece. They noted that had the writer contacted them, they would've backed their brother up.
You can almost see Rourke catching himself again as he changes the subject and begins to talk of being grateful. There were the friends who gave him work when he could barely afford to eat: Francis Ford Coppola, who featured him in the 1997 courtroom drama The Rainmaker; Sean Penn, who put him opposite Nicholson in his '01 movie The Pledge; even Sylvester Stallone.
In 1999, Stallone came over to Rourke in a restaurant. "He said, 'Listen, I'm doing this movie, and I need somebody in it who looks like they can kick my ass. You look like you can kick my ass,' " Rourke recalls. "I'm sitting there going, 'I can barely pay for this bowl of spaghetti. Goddamn do I need a movie.' " But when his agent got the call about the job, a remake of Get Carter, the money was so low it was "disrespectful," Rourke says. He turned it down but thanked Stallone for the gesture. Suddenly, the money doubled. Rourke took the job. When he arrived on set, an assistant filled him in. "Sly really wanted you to be in the movie, and that asshole producer wouldn't pay for it," so Stallone kicked in the rest of the money.
Wouldn't it be sweet, I ask, if it turns out that his fall from grace and long fight back up gave him the strength to finally redeem himself? Wouldn't it be fucking Shakespearean if the Ram ends up giving Rourke what the wrestler couldn't find a way to give himself: a future?
Rourke strokes his mustache with his right thumb. Then he speaks. "I know what I can do. And very few people can do what I can do," he says firmly. "I ain't got no problem with not getting an Oscar this year. Sure, I'd be disappointed. But you know what, then I'll say, 'Fuck you, I'm coming back next year.' And I'll goddamn mean it. I ain't going away this time."
Watch Mickey Rourke's Golden Globe acceptance speech here.
This article originally appeared in the February 2009 issue of Men's Journal.